Machine Fans
For continuous machine cleaning that prevents lint from accumulating.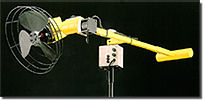 The Rotolator 360's drive system turns the fan head a full 360-degrees around its own axis.
This 360 movement ensures the maximum amount of air reaches the critical areas of a knitting machine while also cleaning creels, tubing, and storage feeders.
The drive system uses the force of the fan itself to propel the unit in a 360-degree horizontal arc.
Unmatched Power
Stop and clean rotating action of the Rotolator 360 directs a concentrated amount of cleaning air to critical machine surfaces throughout a complete 360-degree travel radius.
Powerful fan motor and high efficiency fan blade provide the right amount of air to clean lint from machine surfaces.
Unmatched Choices
The Rotolator 360 is available in sizes to fit any circular knitting machine.
Available in 115 or 230 voltage at either 50/60Hz.
Unmatched Reliability
40% fewer parts in the Rotolator 360 than in comparable motor-driven knitting machine fans.
Ball bearings are fully sealed for maximum life.
Full, 12-month manufacturer's warranty.
Unmatched Ease of Installation
Installation is quick and easy.
Special brackets mount the Rotolator 360 on knitting machines in a matter of minutes.